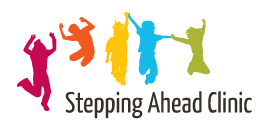 NEW WEBSITE COMING SOON
The Stepping Ahead Clinic was established nineteen years ago
and has a highly experienced team of Occupational Therapists,
Speech and Language Therapists and Clinical Psychologists.
We also conduct multidisciplinary Autism Spectrum
Diagnosis (ASD) Assessments. We provide both individual,
group and school interventions.
If you have a query or you would like to make a referral,
please email us and one of our clinicians will be in touch to talk further.